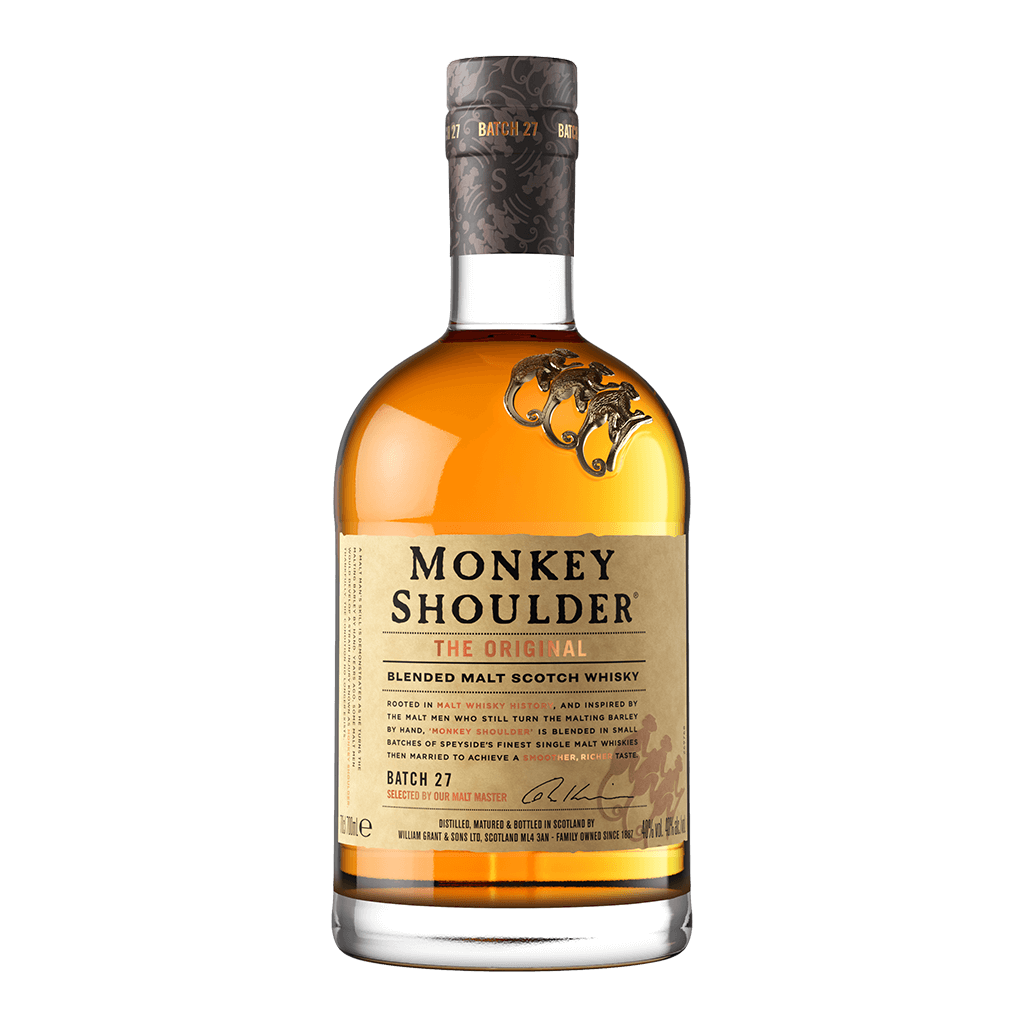 三隻猴子調和純麥威士忌 MONKEY SHOULDER BLENDED MALT SCOTCH WHISKY (700ML)
三隻猴子100%麥芽威士忌1000ml 《三隻猴子》的名稱來自於傳統威士忌製程。酒廠中的翻麥工人長時間以手工翻動發芽中的大麥,這樣辛苦的勞動使他們經常雙臂無力、下垂,於是他們便戲稱自己有「猴子肩膀」(Monkey Shoulder)。為了感念翻麥工人的付出與辛勞以及紀念這項傳統工藝,於是混合了三家酒廠的調和式威士忌《三隻猴子》Monkey Shoulder從此誕生。格蘭父子首席調酒師 Brian Kinsman是這樣形容的Monkey Shoulder:『它擁有麥芽威士忌都該具備的不凡特質,卻沒有任何刻板印象的包袱』。


香氣:初始為花香氣息,陣陣柑橘果香撲鼻而來,繼之而起的是蜂蜜與橡木的香氣。
風味:迷人的香草甘甜融合了太妃糖般的豐富口感,伴隨肉桂與香料氣息增添層次感。尾韻獨特,香甜滑順,入喉後韻味持續性強。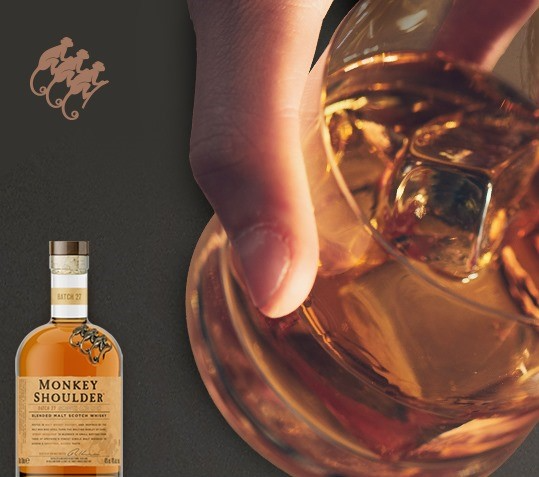 COUNTRYSCOTLAND

BOTTLE SIZE700 ML
REGIONHIGHLAND
WHISKY TYPEBLENDED MALT

ALCOHOL40%
PRODUCT DESCRIPTION
Monkey Shoulder's easy-drinking blend of three single malts - Balvenie, Glenfiddich and Kininvie. Named after the injury distillery workers were prone to suffering as a result of turning the malt. An elegant, stylish nose of marmalade, Crema Catalana, cocoa and malt. Plenty of vanilla and a sprinkling of winter spice alongside a mouth-watering hint of aniseed. The palate is very malty, creamy delivery with a suggestion of berry fruit. Juicy toasted barley, cloves and butterscotch. Manuka honey.
Awards :
Gold - Scotch Whisky - Blended Malt - 2017 : International Wine & Spirit Competition
PRODUCT DETAILS
MONKEY SHOULDER'S EASY-DRINKING BLEND OF THREE SINGLE MALTS - BALVENIE, GLENFIDDICH AND KININVIE. NAMED AFTER THE INJURY DISTILLERY WORKERS WERE PRONE TO SUFFERING AS A RESULT OF TURNING THE MALT
NOSE: AN ELEGANT, STYLISH NOSE OF MARMALADE, CREMA CATALANA (APOLOGIES, BUT IT REALLY IS THERE), COCOA AND MALT. PLENTY OF VANILLA AND A SPRINKLING OF WINTER SPICE (NUTMEG, CLOVES AND CINNAMON) ALONGSIDE A MOUTH-WATERING HINT OF ANISEED.
PALATE: VERY MALTY, CREAMY DELIVERY WITH A SUGGESTION OF BERRY FRUIT. JUICY TOASTED BARLEY, CLOVES AND BUTTERSCOTCH. MANUKA HONEY, HOT-BUTTERED-TOAST AND DRIED APRICOT DEVELOP.
FINISH: MEDIUM LENGTH, SPICY OAK AND A HINT OF PEPPERMINT ON THE TAIL.
OVERALL: ACCORDING TO THE MONKEY SHOULDER WEBSITE: "SOME SAY IT TASTES JUST LIKE RIDING BAREBACK ON THE WILD MOORS OF SCOTLAND WITH A FLAME HAIRED MAIDEN ON CHRISTMAS MORNING. OTHERS AGREE IT TASTES LIKE 007 WEARING A TUXEDO WETSUIT." THIS IS WHISKY TO BE ENJOYED.
---